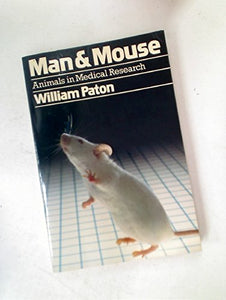 Man & Mouse: Animals in Medical Research
$7.77

$7.77

57% off

Save $10.42
---
---
Book Overview
This is a new edition of Sir William Paton's acclaimed defense of the use of animals in research. Man and Mouse is the only book to explain fully the role of animal experiments in medical and veterinary research. The updated text includes new material on toxicity tests, the link between innovation in the field of drugs and the scale of animal experimentation, the history of the escalating violence of the Animal Liberation Front and other groups, and an extended discussion of the ethical problems surrounding animal experimentation.

Source: Publisher


Specifications
★ Author: William Paton

★ 

Publisher:
Oxford University Press, Incorporated
★ ISBN-10: 0192860437
★ ISBN-13: 9780192860439
★ SKU: 66474-MM-AIMR-WP-PB
★ Format/Binding: Paperback
★ Language: English
★ Publication Year: 1984
★ Weight: 5.8 Oz
★ Length: 7.7in.
★ Width: 5.1in.
★ Height: 0.5in.



Book Condition
★ Pre-Owned, Very Good
Books
 > Nonfiction
---
We Also Recommend
---