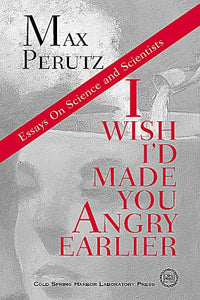 I Wish I'd Made You Angry Earlier: Essays on Science and Scientists
$17.79

$17.79

49% off

Save $17.16
---
---
Book Overview
"Science is no quiet life. Imagination, creativity, ambition, and conflict are as vital and abundant in science as in artistic endeavors. In this collection of essays, the Nobel Prize-winning protein chemist Max Perutz writes about the pursuit of scientific knowledge, which he sees as an enterprise providing not just new facts but cause for reflection and revelation, as in a poem or painting." "Perutz seeks to convince us that science is a passionate enterprise and the pursuit of knowledge a sortie into the unknown. There is no more persuasive advocate. These pages are filled with portraits of twentieth-century giants, Pauling, Meitner, Bragg, Haber, Medawar, Szilard, Jacob, Krebs, and others. There are entertaining glimpses of Perutz's own long and exceptional life: his flight from Vienna in the 30's and internment in Britain as an enemy alien in World War II, rescue from the sea after a U-boat attack, involvement in a scheme to make ships of ice for refuelling aircraft in the North Atlantic, and after the war his intense, ten-year struggle to perfect a new way of understanding protein structure and function. Perutz is an eloquent spokesman for humanitarian causes, and his observations on abortion issues, nuclear fuel reprocessing, and human rights reflect a lifelong concern for both social justice and scientific integrity."--Jacket.
About the Author
:
Max Perutz, FRS, was Director of the Medical Research Council Laboratory for Molecular Biology from its foundation in 1962 until 1979, and remained a member of the scientific staff there until his death in February 2002. In addition to many other awards and honours, he received, with John Kendrew, the Nobel Prize for Chemistry in 1972 for the first solution of the structure of proteins.
Source: Publisher
Specifications
★ Author: Max F. Perutz

★ 

Publisher:
Cold Spring Harbor Laboratory Press
★ ISBN-10: 0879695242
★ ISBN-13: 9780879695248
★ SKU: 6474-IWIMYAE-EOSAS-MFP-HC
★ Format/Binding: Hardcover
★ Number of Pages: 354 Pages
★ Language: English 
★ Publication Year: 1998
★ Weight: 24.8 Oz
★ Length: 9.2in.
★ Width: 6.5in.
★ Height: 0.8in.
Book Condition
★ Pre-Owned, Very Good

Books
 > Nonfiction
---