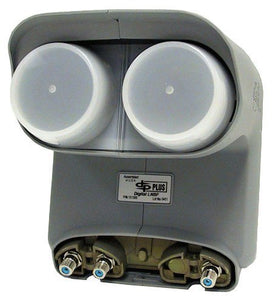 DISH Network Dish Pro Plus Twin LNBF (DPP Twin LNB) ES1670
$29.25

$29.25

51% off

Save $30.74
---
---
Product Overview
The DISH Pro Plus Twin LNB/LNBF features DISH Pro Plus Technology and provides reception from the 82 and 91 or 110 and 119 orbital locations. The LNBF includes two receiver outputs and an input for one additional orbital location. This LNB allows you to pick up 2 satellite locations and distribute them to up to 2 single tuner or 1 dual tuners satellite receivers. The 3rd port can be used to hookup a third satellite orbital location, thus having signal from three satellites means MORE CHANNELS. This LNB has the built in switches and does not require the external SW-21 or 4x1 Diseqc switches.
Key Features
Brand: DISH Network
Model: ES1670
Built in DISH Pro Adaptor which will allow this switch to be used with any DISH Network receiver including older legacy equipment.
In addition when used with the DP Separator (purchased separately) enables you to run 1 cable into the home and feed dual tuner DISH Pro Receivers 322, 921, 721*, 522, 625, 722, 922, 622,and 942) making installations a snap.
For Satellite 110 and 119
This unit will work with a Dish 500.
Product Condition
---