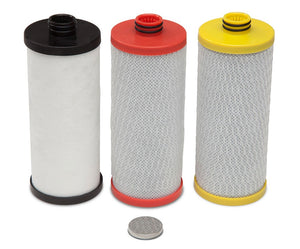 AQUASANA AQ-5300R FILTER REPLACEMENT 3-STAGE UNDER COUNTER WATER FILTER - NEW
$52.75

$52.75

19% off

Save $12.24
---
---
Product Overview
Replacement filters for the AQ-5300 3-Stage Water Filter System to be used with  the following systems: AQ-5300.55, AQ-5300.56, and AQ-5300.62 
Key Features
CLARYUM® TECHNOLOGY
Activated Carbon
Reduces organic chemicals like herbicides, pesticides, VOCs and MTBE.

Catalytic Carbon
Targets chlorine and chloramines.

Ion-Exchange
Filters heavy metals like lead and mercury.

Absolute Sub-Micron Mechanical Filtration
Captures asbestos and chlorine resistant cysts like cryptosporidium and giardia.

THE RESULT: 10x more contaminants reduced plus healthy minerals retained for purely delicious filtered water.

EASIEST FILTER REPLACEMENT
Replacements engineered for ease. No need to disconnect hoses or water lines. Eco-friendly filter housing easily twists off so replacing your filters is a snap!

CONVENIENCE & VALUE
Fewer filter replacements. More clean, great-tasting water.

One Aquasana Claryum® filter gives you 15x the capacity of the leading gravity-based pitcher.

INCREASE PERFORMANCE
Extend the life of your system. Improve effectiveness.

Three Stage System features a 20 micron pre-filter to capture rust, sediment and silt that can clog your system. Extends filter life capacity to 600 gallons!

HOW IT WORKS
SUPERIOR FILTRATION
SELECTIVE CLARYUM® FILTRATION
Reduces 77 contaminants while retaining beneficial minerals for optimal hydration.

EASY TO INSTALL, REPLACE & MAINTAIN
Filter lasts up to 6 months and features easy twist-off design.

NSF CERTIFIED
Full system tested and certified to NSF/ANSI Standards 42, 53, 401 + P473.
Product Condition
---